Exactly one year ago I finished my first bronze clay project. Even then it was clear that bronze clay is a different piece of cake compared to silver clay. So how will embeddables for bronze clay behave?
First thing: be sure that the embeddables are from a reliable supply shop. I buy mine at CoolTools together with the clay. The shop provides information on firing clay and guarantees that the findings can stand a certain temperature. In this project 3 types op embeddables have been used: eyelets, gallery bezel wire and a brass bezel cup.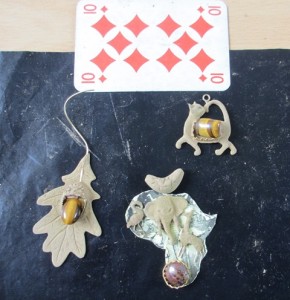 The three different pieces have been shaped in BronzeClay and dried up. As already said, Bronze Clay is dry, grainy and tough to shape when wet, but quite strong and easy processable in the greenware state. The major disadvantage of the FastFire clay is a soft grainy surface – probably owing to the binder type – which makes it virtually impossible to achieve high polish in a dry state. When scratched the surface powders off easily. So any time you engrave anything, you have to sweep the powder off with a brush. It makes engraving dry bronze clay less easy than dry silver clay. Engraving and bringing all type of texture is actually the best way to use ANY precious metal clay. A smooth surface means lots of polishing, visible defects such as blisters (may they appear) and a kind of a missed chance, when you see how hard silversmiths try to bring texture onto a hard metal!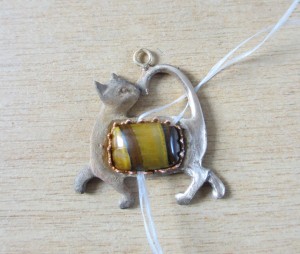 However this cat was meant to be smooth, to stress its streamlined body. After an 1-hour ramp up to 830 C and 1 1/2 hr of holding it still looked 'clayish' and showed almost no shrinkage (<10%). But when I began polishing the hind part I discovered that it was METAL Bronze. The firing was OK, the embeddable eyelet and the gallery wire did survive. The bezel had a bit reddish scale, but I could polish it off. The bezel had not been soldered prior to firing, because no solder, especially a low-temp one, should ever be put into the kiln at 830 degrees. The solder will melt, flow and leave stains or holes on the piece.
The low shrinkage of the FastFire Bronze Clay allows to be free with many types of embeddables. If a piece is strong and thick enough, no cracks or deformation around the metal will appear. However the bezel cup has become a complete failure. The acorn cap I built above the bezel cup was weak and broke in pieces when I tried to insert the stone. Besides, when I removed the bezel cup the bronze clay underneath it even looked 'underfired'.
Another disappointment has been the carved bail for the Africa pendant. The bail was hollow, built around a piece of cork clay. However,  probably because I did not let the cork clay burn off before, the bail as a whole has been completely underfired and full of ashes. See the breakage on the picture.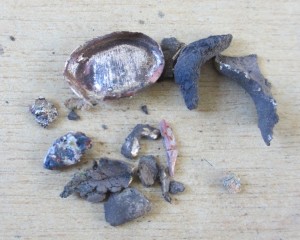 Let's go back to the precious metal clay basics. Precious metal clay does not fuse or melt together with metal, it sinters. Metal parts such as embeddables are held not because they are melt together with metal clay. It is the clay shrinkage which creates a hold, but this is purely mechanical hold, not a chemical or physical bond.
So I had to remove the bezel cup and replace it by a gallery wire bezel, soldered afterwards. For soldering BronzeClay a low-temp silver solder or – on visible parts – a special yellow colored solder can be used. The leaf pendant looks nice, but the acorn has unfortunately no cap (which could have been cool – look at this one).
Conclusion: BronzeClay may be strong as such, but not to build bridges and other unsupported design elements. Embeddables for BronzeClay are OK, especially the gallery wire which can be co-fired in activated charcoal. They can also be soldered afterwards if you like more control. And voila…. here are the pieces, each of them being a challenge.