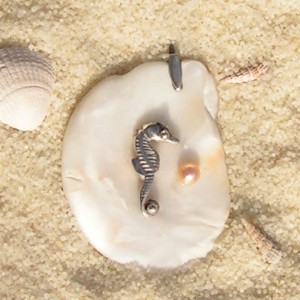 Sea jewellery is probably one of the oldest jewellery themes. At all times people went beach combing in their search for sea treasures. Found treasures were often used as decorations: shells, pearls, stones, pieces of glass and wood and other pieces that became sea jewellery.
Silver may not come directly from the sea (though seawater contains about 2-100 ppt of silver) But it is connected to the sea – and water in general – through the symbolism of the Moon. Pearls and shells traditionally combine with silver. Also fish and other sea animals make a wonderful match with this precious metal: because of their color and their body shape.
In my sea jewellery I try to make this connection between sea and silver even more pronounced. So that the wearer – a sea lover – will be reminded of the sea when wearing it.
Browse my collection here below. Some of my sea jewellery pieces are still available for sale in my shop. Available items are marked green, click on the star to go to the shop. If the item is sold out t is also possible to order a jewellery piece in the same style. Just contact me.
Sea jewellery by zilvera collection