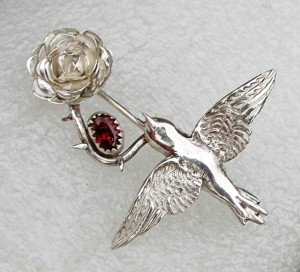 A brooch is designed to be attached to garments, often to hold them closed. Not every garment is good for a brooch. Brooches do not look very well on T-shirts. This is why in the modern era of T-shirts brooches are maybe a bit 'outdated'.
People started making brooches in the Bronze Age when they started metalworking. Brooches are also called pins. Pins are in fact brooch components which fasten brooches to clothes. Pins need to be sharp and strong. Even sterling silver can be too soft for a pin. The other element which holds pin is called 'catch'. It is mechanically loaded and quite challenging to solder: solder filling the wrong gap makes the catch 'freeze'.
Like a pendant, a pin can make a statement or signify that the wearer belongs to a certain group. As the brooch is the only piece of jewellery which never contacts the human skin, it is absolutely allergy-proof. It is also somewhat impersonal as it is attached to the clothes, but not to the person who wears them.
Artisan brooches and pins by zilvera
I like making brooches because they allow me to tell – or to illustrate – a small story using the language of jewellery. Like this one on the picture above. The story of The Nightingale and the Rose, by Oscar Wilde which touched me so much that I decided to make it in silver.
Browse my collection here below. Some of my artisan brooches and pins are still available for sale in my shop. Available items are marked green, click on the star to go to the shop. If the item is sold out it is also possible to order a jewellery piece in the same style. Just contact me.
Brooches by zilvera collection