---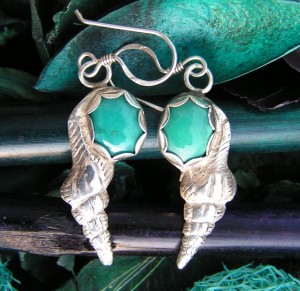 Earrings are pieces of jewellery worn on ears. Besides the classic "ear-ring" design in the form of a loop or a hoop, earrings can range from small studs to large plates and dangling items. The size is ultimately limited by the physical capacity of the earlobe to hold the earring without tearing. However, heavy earrings worn over extended periods of time may lead to stretching of the earlobe and the piercings, like in Malaysia or in some African cultures.
The ear is a unique part of human body. According to auriculotherapy the ear contains a system of sensitive points which reflects the entire body. Piercings and pressure at the 'wrong' spot could influence one's health in general. This is why comfortable earrings are so important.
Unique handmade earrings by zilvera
My earrings are designed to be as comfortable to wear as possible. I don't want my clients to stretch their earlobes or experience other discomfort like head ache. This is why weight and general design of the earrings, especially dangles, is so important. I prefer dangles to studs because they allow to use stones, sculpted figurines and other artistic creations. For the dangling components the light weight of fine silver from pmc is often an advantage . On the other hand, the holding components such as earhooks or earpins are never made of pmc. Mostly I use commercial sterling findings. If you are allergic to sterling silver I can customize the earhooks for you where technically feasible, replacing sterling silver earhooks with those made from fine silver or surgical steel.
Browse my collection here below. Some of my earrings are still available for sale in my shop. Available items are marked green, click on the star to go to the shop. If the item is sold out it is also possible to order a jewellery piece in the same style. Just contact me.
Earrings by zilvera collection