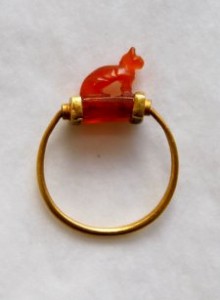 Cat jewellery: why cats are so popular
Cats have always fascinated humanity. In ancient Egypt they were venerated as gods. The reverence for cats was expressed in different art forms. Last but not least, in cat jewellery.
Wearing jewellery creates a connection between the item and the wearer. People feel they can become a bit like cats themselves: elegant, calm, playful, sexy, soft yet strong and very resilient. That's how animal totem jewellery works.
Making unique cat jewellery I want – like the ancient Egyptians did – to express my fascination for cats. I would also like to connect between all cat lovers in the world. My own cats help me in cat jewellery design: they are my living models and an endless source of inspiration.
I also love collecting unique cat jewellery on Pinterest designer cat jewelry board.
Combination of silver (especially silver clay) with gemstones which are cut and polished in the shape of a feline body makes my pieces unique cat jewellery. Browse my collection here below. Some of my cat jewellery pieces are still available for sale in my shop. Available items are marked green, click on the star to go to the shop. If the item is sold out t is also possible to order a jewellery piece in the same style. Just contact me.
Collection of cats by zilvera