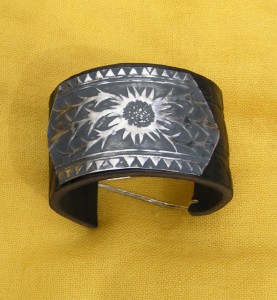 A bracelet is a piece of jewellery, that is intended to be worn around the wrist or forearm. It can be also worn around the ankle. Then it is called anklet.
A soft (mainly leather) bracelet is also called wristband.
Bracelets can be with or without clasp. Bracelets without clasp fall into two categories: bangles and cuffs. Bangle is a closed and mainly rigid circle. It must be large enough to pass the hand.
A cuff bracelet is one that does not close on the wrist but simply rests on the wrist with a gap or open area on the inside of the wrist. They are gently rolled over the wrist from the thumb side or inside of the wrist just above the wrist bone.
Bracelets which are decorated with charms and other elements are fun. However these elements should not be too loose so that they don't get stuck – in sleeves, gloves and all around the wearer.
Silver and stone bracelets by zilvera
Because bracelets are quite metal-consuming, I combine my silver and stone bracelets with leather. Leather is the material traditionally used for this piece of jewellery. It is strong and soft at the same time.
Browse my collection here below. Some of my silver and stone bracelets are still available for sale in my shop. Available items are marked green, click on the star to go to the shop. If the item is sold out it is also possible to order a jewellery piece in the same style. Just contact me.
Bracelets by zilvera collection