In my previous blog I promised to compare Etsy.com and Zibbet.com. But to compare the two would be like comparing apples to pears. Etsy handmade market was launched in 2005 and since then it has evolved into a full-fledged handmade marketplace. Zibbet was founded in 2009 and experienced the influx of Web traffic and new sellers in October 2013 following the introduction of new guidelines on Etsy. These guidelines expanded the concept of handmade, which has made Etsy so big and popular, to "unique/design factory-manufactured" items (translated by many critics as "design mass products made in sweat factories" ). As a result thousands of sellers left Etsy and sought refuge on Zibbet.
As a professional linguist playing the advocate of the devil I could find some arguments in favor of calling manufactured "handmade". The origin of the word "manufacture" is Latin and it means "made by hand" (so not by foot or other part of human body). However it's not the point in this blog. I am just telling my own experiences that I have had – so far – on both of these platforms. You can agree or disagree with me.
So let's start with Etsy.
This recent survey of handmade marketplaces claims that "Etsy is the best handmade marketplace out there". Is this claim justified?
According to the web information company Alexa.com Etsy handmade market has the highest (after Ebay) traffic ranks. With more than 1 million sellers and 30 million registered users in 2013 it surely is # 1. For me personally it has been the site with the best conversion rate between views and sales.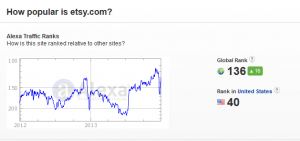 The point is that Etsy handmade market generates its own internal traffic being a community, where artisans buy from other artisans. This spirit lives even with new guidelines. I guess, the new guidelines have made this spirit even stronger. The "all handmade by me team" which was born out of resistance, has been very active since then. I have rated "seller friendliness" with ++, because Etsy sellers are really very friendly to each other. One can argue that the system of giving hearts and compiling treasuries is not a 100% proven tool of sales promotion, but it is very supportive and feels good. Also the forum discussions and conversations are helpful. Actually the "seller friendliness" of the site admins is also good, but I gave it one + just because they refused – for no obvious reason – to introduce the special "handmade" category following the new guidelines.
With so many sellers the competition is heavy, but I really enjoy the high artistic level of the items sold here, especially jewelry. There are so many great jewelry makers – not to copy but to learn – from.
Technically Etsy is fine. I would like to have some features improved: for instance tags should not be limited by 20 characters. I am not pleading for using words like supercalifragilisticexpialidocious but it should be possible to use "amethyst sterling silver cat ring" as a tag since other sites allow it. Also treasury compilation could be made easier: instead of going to the home page and looking under "other ways to shop" one should be able to go to one's favorites and click a button "create new treasury", the same way like one creates a new list. But these are details.
In my opinion the main drawback is the cost. Etsy costs a lot. Besides the sales commission of 3,5% (a fair percentage), the site charges  USD.20 cents for each (re)listing: and a listing has a lifetime of 4 months only. Sometimes I have to relist an item 3 to 4 times before it sells. No wonder Etsy has the lowest revenue to cost ratio of all platforms – so far.
Another drawback of Etsy to me is the geography. 70% of visitors come from overseas -USA,Canada, Australia. I have written before how important is the "being close factor" for the jewelry buyer: in terms of shipment time and costs, warranties etc. The same can be said about Zibbet where the percentage of overseas visitors is even higher – up to 85%!
Let's move on to Zibbet now.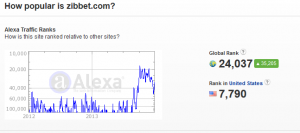 As you see above Zibbet can not compete with Etsy it terms of traffic (yet?). The only thing which is comparable is the great community spirit. Zibbeters are very committed and helpful – to the site and to each other. And the admins are very supportive too! If there were just one argument to chose for Zibbet, it would be this one. Technically Zibbet is still growing and improving. I can imagine that it was quite a challenge for the site to cope with the influx it experienced last October.
There's a lot of promotion to do too. With limited internal traffic Zibbet is depending on the sellers who have to mobilize all their promotion resources to attract external traffic to the site. While on Etsy this job was done long time ago.
Having had no sales on Zibbet so far I can not provide any stats or evaluations. My Zibbet shop has been functioning for 3 months only with limited stock so it would not be fair to compare. I am still a basic seller, it means, I have an account with the free limit of 50 items. Zibbet offers paid options too, with premium starting at USD 79 a year. According to one of the site owners Zibbet "makes money from premium subscribers, about 23 per cent of our 6000 sellers are paying premium members." On the other hand, Zibbet charges no sales commission. Feeling more for the "no cure no pay" philosophy I am not quite sure that Zibbet's approach is the optimal one.
So far my experiences with these two platforms for selling my handmade jewelry.
I can conclude that I am not going to leave Etsy and put all my eggs into the Zibbet basket. I will try to promote both my shops instead. Let's wait and see. Etsy is not in danger of losing its No. 1 spot just yet.