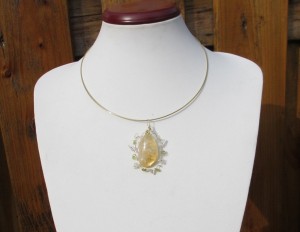 Een hanger is waarschijnlijk de oudste sieraad op aarde. Onze voorouders pikten een steen of een schelp die ze leuk vonden, maakten er een gaatje in en bevestigden het stuk op een touwtje of op een leren bandje. De naam hanger komt ook van "hangen". Een hanger +  het touwtje, bandje en – later – een kettinkje – worden "halsketting" (of chique: collier) genoemd.
Omdat de hanger heel vaak als eerste opvalt – zeker als deze groot en opvallend is –  wordt het als een soort ID of een statussymbool gedragen. Vroeger: om te laten zien dat de eigenaar tot een bepaalde stam hoorde of zoveel leeuwen had gedood. Tegenwoordig: om een of andere "statement" te maken. Voor de buitenwereld of voor zich zelf.  Sommige hangers, zoals die met religieuze symbolen of dingen met persoonlijk betekenis worden juist door de drager voor zich zelf gehouden. Ook de door de soldaten gedragen hangers met persoonlijke gegevens zoals naam, bloedgroep etc hoeven niet te worden gezien.
Als men in de stenentherapie gelooft kan een hanger (liefst op een organisch materiaal gedragen) invloed hebben op twee belangrijke chakra's: keel chakra en hart chakra.
Handgemaakte hangers en halskettingen van zilvera
Bij het ontwerpen van handgemaakte hangers en kettingen staan bij mij twee dingen centraal: a) hangers mogen best opvallen – en –  b) ze moeten ook gebruikersvriendelijk zijn. Omdat de meeste hangers direkt op de gevoelige huid van de borst en nek rusten mogen ze niet te scherp zijn.
Ik maak zowel hangers als complete kettingen. Veel van mijn kettingen zijn op maat te snijden. Als je over de maat twijfelt, hier is een simpele regel: korte kettingen of chokers zijn 38-40 cm, korte kettingen die boven de T-shirt halslijn worden gedragen zijn 40-46 cm, medium zijn 46-60 cm, lange colliers beginnen met 60 cm, en de extra lange gaan zelfs boven 80 cm. Daarbij is natuurlijk ook de lichaamsgroote en -bouw van belang. Halsomtrek, vorm en hoogte van de borst en de algehele lengte bepalen de lengte van de ketting.
Onderaan is de collectie van alle hangers en kettingen die ik heb gemaakt. Blader er doorheen. Sommige van deze sieraden zijn nog steeds te koop in mijn winkel. De achterkant van de foto is in dit geval groen. Klik op het sterretje om naar de shop te gaan. Als ze uitverkocht zijn, blijft de foto grijs. Maar het is altijd mogelijk iets in dezelfde stijl te bestellen. Neem contact met mij op per email.
Zilvera's hangers en kettingen collectie