Aquamarine jewelry sale at zilvera's
February, the shortest month of the year, is nearing it's end. The Sun has already entered the Pisces sign. One of the birthstones for Pisces, especially for the first 20 days of this sign, is aquamarine.
So it's time for March aquamarine jewelry sale. Because I love this stone and I also love Pisceans, I create a lot of aquamarine jewelry using all possible forms of the stone: raw, tumbled, faceted. The wide range of forms and prices makes the stone so interesting for aquamarine jewelry sales. Everyone can find an affordable piece. Aquamarines come in different qualities: transparency, lack of inclusions and pure seawater color indicate the highest quality, which is also the most expensive. The stone also makes a marvelous combo with silver, this is another reason why I use it so often.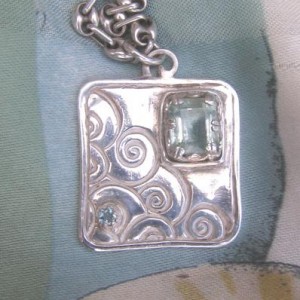 One of my first pendants made in pmc silver is called "The birth of Aquamarine" (see the picture on the left). A small spark is born in the sea and then it rises to the surface, comes in contact with the skies and becomes a large Aquamarine. The stone has a double nature: its name comes from the Latin aqua marinus, meaning "water of the sea," but the stone itself is connected to Heaven reflected on the surface of the water. It becomes a mirror, reflecting itself indefinitely, making it possible to discover hidden meanings of reality.
Esoterically Aquamarine has always been considered the protective stone for those on a long journey over sea or air. As a travel crystal, greenish blue Aquamarine protects the travelers, alleviating the fear of water and flying. I always take mine when traveling by air.
Aquamarine is also a powerful anti-anxiety stone. It helps overcome the fear of speaking, and is an excellent stone for teachers and presenters of all types. Associated with the 5th (Throat) chakra, aquamarine is also the stone of mediators, interpreters and all those who use their persuasive power (originating from the voice) to bring peace, harmony and mutual understanding.
The healing properties of the stone are focused on the region of ears, nose, mouth, throat and respiratory system in general. There are claims that aquamarine alleviates toothache, soar throat, ear inflammation and bronchitis. I can personally neither confirm nor reject these claims.
What I learned from this stone that it is very tolerant and accommodating. Aquamarine can be worn not just by Pisces natives but also by most water and air Signs. For Pisces it is especially beneficial since it is cleansing the emotional body and opening communication. These are the two things Pisceans need most because they are emotional sponges absorbing and letting through all influences from the outer world.
So welcome at March birthstone aquamarine jewelry sale at Zilvera's! Click here to go the shop.