IMHO reproducing jewellery is boring, it's something for serial manufacture, not for a hobby jewellery-maker who wants to learn different techniques. It is also a mission impossible because materials, stones, tools, skills – even mood – can change with the time. That's why I am not enthusiastic about reproducing jewellery, i.e. making exact copies of my own pieces. But what if a custom order to reproduce a jewellery piece can be seen as a chance to improve your earlier creation using new skills and experience? Then the custom order can be very rewarding.
Some time ago a buyer approached me on etsy.com with an unusual request. She wrote that the piece she had bought from me years ago had been stolen from her. Could you reproduce this piece for me, she asked? I was deeply touched by her story. I honestly told her that some of the materials are not available any more, but I will try to make something as close as possible – at the price as close as possible. The latter was a real challenge, but I decided that I won't charge anything extra for work, just for the materials. It also sounded fair, because in 5 years my skills got better and lots of things got easier.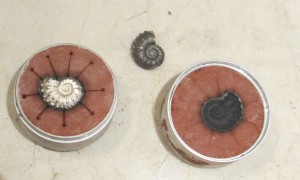 The original necklace was made from precious metal clay via a silicone mold.
For the remake I decided to apply the Delft clay casting method. Luckily I still had the prototype – an ammonite shell. The casting was perfect…but the massive sterling silver ammonite turned out to be much larger – and heavier than the silver clay piece. For earrings that would have been a problem. I contacted the customer with the news that her new pendant would be a size larger and heavier. That would also impact the price, though this impact would be moderate, because recycled sterling silver is cheaper that PMC. Happily it was OK with her.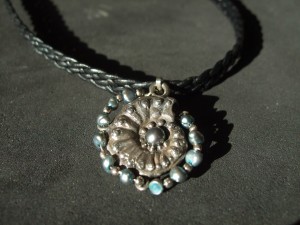 Next challenge was to get the same leather and clasp for the necklace itself.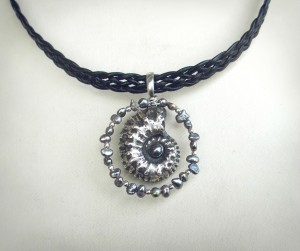 It was quite a bit of luck that my supplier still had these materials at about the same price. But it took some time to order them.
After some weeks the necklace was finished and shipped to the buyer. She was very happy with it. And I was happy too, because I got a chance to improve my own work