Nothing can be more rewarding for a jewelry maker than making a custom jewellery piece. And nothing can be more frustrating either. When you spend days thinking, drawing, modelling, finding technical solutions, implementing… and the customer says about the end result "No, I don't think I like it".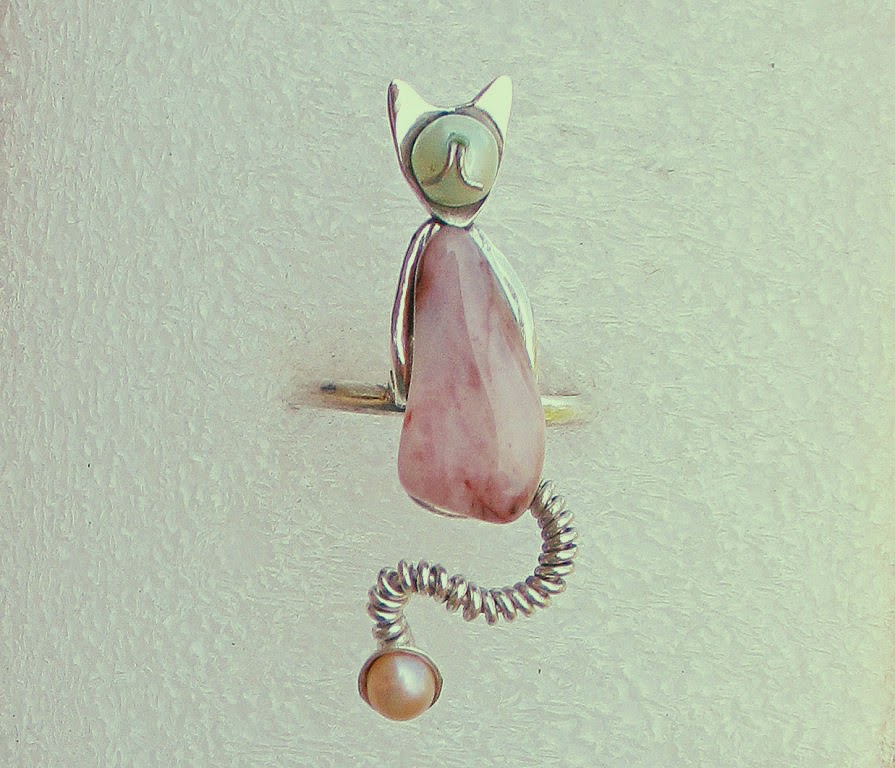 Pic.1 The original cat
It happened to me, more than once actually. I'd like to share one of the stories here. One day I received an email from a lady who admired my rings, especially one of them (see pic.1). But since it was sold, she asked me whether it would be possible to reproduce it – with a different stone. We agreed on the stone and on the general layout which should be as close to the original as possible. All details have been discussed but one – the finishing touch – the wire which holds the "head" pearl in its cup, functioning as a pin. A pearl is always better off with a pin than with glue only. Especially when the pearl has a hole. The pin has both technical and estethical function. In the original ring I used two wires which were split in the shape of a cat's snout.
However, my drive towards constant (technical) improvement told me that two wires might get stuck and twisted and it would be better to replace them by one thicker wire which won't get bent or stuck easily. So the custom made version received a round "snout" made of one thicker wire. But… this turned out to be a big mistake. When the customer saw it, she was kind of disappointed. The snout was a big spoiler in her eyes. When I asked her "What about the rest of the ring? Shall I try to modify the "snout" to your wish?" the answer was "Well, I just think I don't get the WOW feeling from this ring the way I had it from the original one." Point.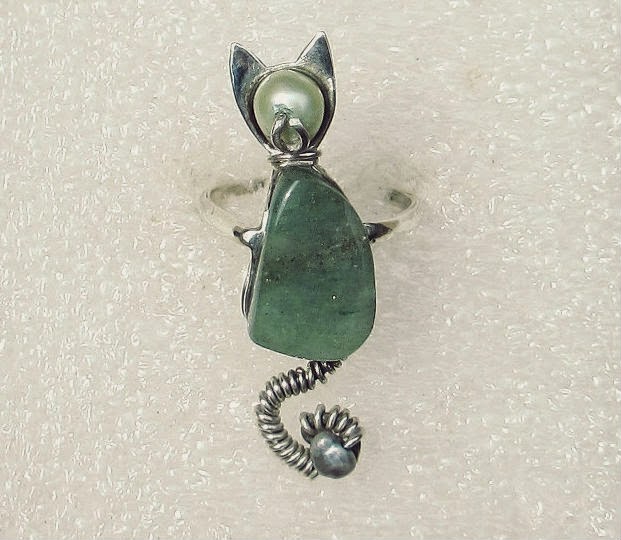 Pic. 2 The custom-made version
Frustrating? I bet it was. In my vision the second cat ring was technically superior: more robust in design, more proportionate in shape, with a better quality stone and even higher silver content – at the same price. The customer never appreciated all this, focussing just on this one little "snoutty" detail.
One can even argue whether the customer probably wanted to cancel the deal altogether and was just looking for a reason. Experienced jewelry makers advise to ask an upfront payment (or a non-refundable deposit) before they start working on a custom order. Just because they have to make costs and run much greater risk than the customer who can cancel at any moment at no loss at all. But I am an amateur, making my jewelry out of love and not to make a living. The commercial side is less important to me than making the wearer happy with my work.
Here are some valuable conclusions:
1. What you as a maker see as a technical improvement, is not necessarily an improvement in the eyes of the customer.
2. Agree with the customer on each and every detail. Actually, what you see as a secondary detail, could be the keypoint for the customer.
3. Do not copy, but stick to the original version as much as possible. Do not change anything unless this is endorsed by the customer.
4. The customer can not always verbalize what he or she (dis)likes in the piece. But very often when they SEE it they can say "yes, I like it" or "no, I don't". Make as many drawings and models as possible.
So the key in making a custom jewellery order succeslful is Communication. Custom is all about the "C" of Communication. I guess it is true not for jewellery only.