In my opinion, one of the main differences between love and friendship is that friends are able to see our strengths and weaknesses, while lovers see us through pink glasses.
It's been almost 5 years since I fell in love with precious metal clay. At first I saw no drawbacks and wanted to utilize it for everything – even for bezels and bails. Since then my love relationship with silver clay has evolved into a stable friendship. It means that I am now able to be more discerning towards different uses of precious metal clay.
Metal clay texture is attractive,  saving polishing time and tools
One of the situations when precious metal clay is at its best are sculpted and textured items. Though casting can also produce pieces with fine detail, it remains a technically complicated process. For instance, changing anything on a cast piece is not possible: you have to melt it and cast again. Casting needs a model to be made or found frist. Precious metal clay gives you an absolute freedom – until it  is fired, of course.
Those who follow my blog probably know that I love making cats – in all shapes and sizes, with precious stones and without. But so far all my kitties have been smooth and mirror-polished. I decided, that it is time to make a long-haired cat, with a robust head and hairy tail, something like a Siberian or Main Coon breed.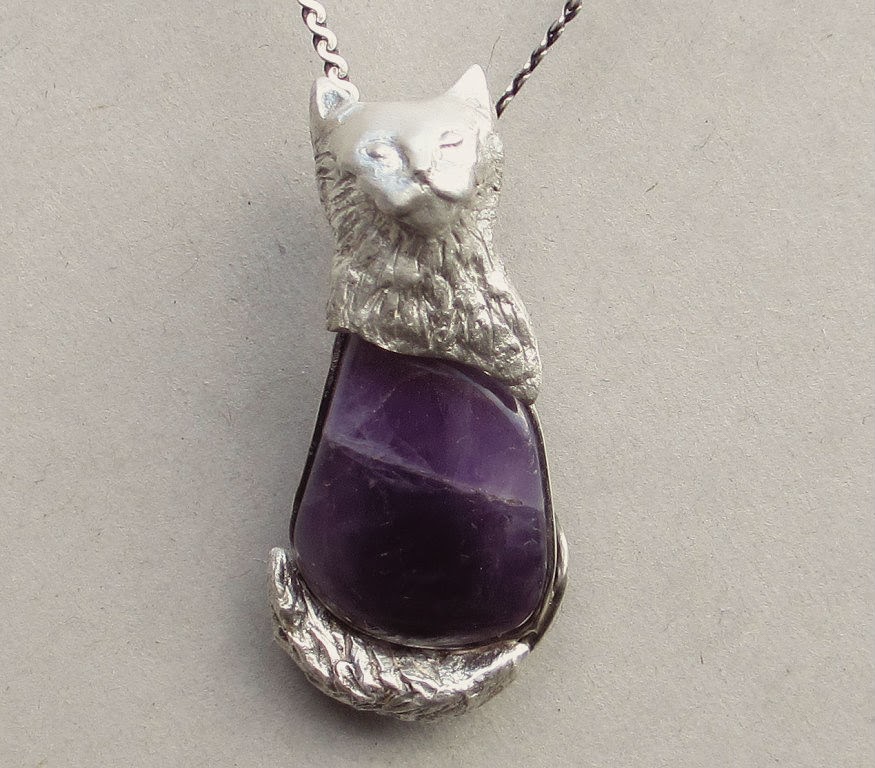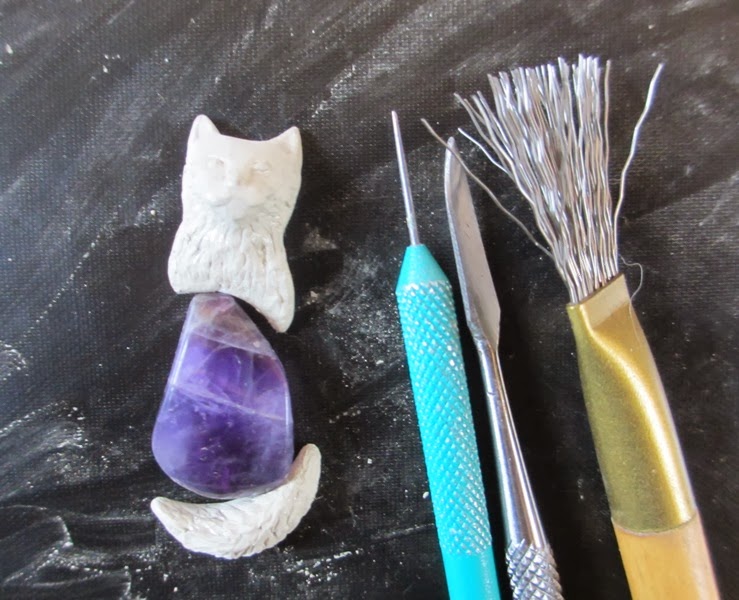 To achieve that I used the following tools: a clay shaper, a steel brush, a carving tool and a pin. The former two have been applied to wet clay and the latter – to dried greenware. I let the piece dry very well before carving. Only the cats "face" has been polished, the rest remained nicely rough. It certainly saves time for sanding and polishing.
Another plus is that rough texture pattern masks any irregularity (microcavities etc) which can appear in the fired piece. Fine silver based on precious metal clay is porous. You may not see the pores with a naked eye, but they are there. Porous structure results in quicker tarnishing of fine silver pieces when they contact with environmental sulphur. Polishing of fine silver takes more time, tools and effort than sterling.
Texture looks more attractive from an esthetic point of view too. Especially, when it is a cat. Except for the sphinx breed, a real cat should have fur.  Furr and purr, that's what cats are forrr….:)