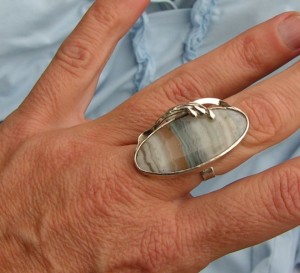 Ring earring set: shall the ring and the earrings be identical if they belong to the same jewellery set?
Some time ago I ran into a set of three gorgeous banded agate gemstones. No gemstone is more creatively striped by Nature than agate, chalcedony quartz that forms in concentric layers in a wide variety of colours and textures.
When I saw these gorgeous agate gemstones, I immediately thought of the Dutch dunes: brown band of sand, a blue band of sea, surrounded by endless gray skies. What was missing was the dune grass. I combined the stones with the art-nouveau leaves and flowers (yes, the dune grass has flowers too).
In the first version the ring had the same design as earrings: set in an open bezel, decorated with the same thin leaves.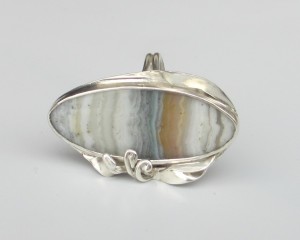 However it did not feel right. Thin elements might be good on earrings because they reduce weight, but on a ring… They can get stuck and break off easily. Besides that an open bezel is not good for a ring since it does not offer sufficient protection to the stone.
So I set the ring stone into a closed sterling box bezel and replaced thin decoration elements such as leaves and flowers with sturdier ones. The ring has only won from this transformation: in looks, but also in solidity and durability.
Conclusion: the ring and the earrings in a set MUST have different design because they are worn differently.