Etsy.com has become great and famous as THE market for unique stuff – handmade or vintage. So great and famous that at a certain point its owners  were tempted to cash on this business success. In 2013 etsy.com decided to expand its markets by selling "manufactured" designer products.  It means that a product designed by a designer in the USA or Europe can be reproduced somewhere in Asia and then re-sold on Etsy as handmade or even vintage. Etsy.com even provides a beneficial business facility to such manufacturers: they don't have to pay the listing fee for each piece of the series, they pay just once and sell any quantity. Easy, cheap and unfair towards the sellers of one of a kind articles.
I remember the vivid discussion on etsy forums when this Etsy policy change was introduced. Many sellers – who sell true handmade or vintage articles – complained  justifiably. But their complaints could not stop the influx of mass produced items that are just being re-sold here and are neither vintage or handmade ( although they are being listed as such). The "manufacture" sellers are being allowed to continue selling even though it goes against Etsy Policy, and despite being constantly flagged. Actually it has no point to report such items to etsy admins because no action is being taken. Some sellers complain that they are told by etsy employees that they were just being prejudice.And aren't these mass articles still made by human hand (and not by foot, elbow or other human body part)? "Manufacture" means "made by hand" in Latin after all.
No wonder that after the Etsy policy change it's much more difficult to sell on etsy.com today than a year ago. Especially in my category – jewelry – which had been crowded already before the policy change. Just an example: type "silver cat ring" in the handmade category and you get this result:
The top row contains sponsored ads. Look at the last picture in the row. It suggests that the product is available in more variations. Click on it for the listing details and you will see that this ring can be ordered in several sizes and colors and will be shipped from South Korea in ANY quantity. The shop owner ends his listing with "Need More quantity? Convo. me!"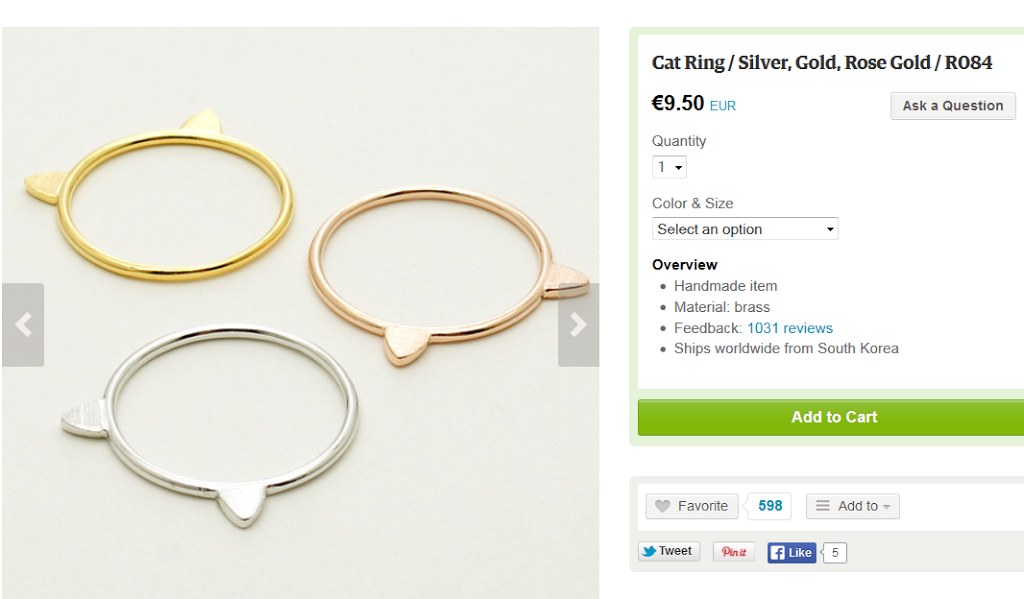 Actually, this design is quite unsophisticated. I really thought at first that it was sold as a supply to be used for more intricate design rings.
But it is listed in the handmade category.
And just underneath it there is another example of  a "designer" ring.
Find 10 differences.
Well, I see at least four: this ring is shipped worldwide from HongKong, it is sterling silver, made to order (!) and costs EUR 11,38 euro instead of EUR 9,50. But it looks exactly the same. Probably created by the same designer.
Yes, these rings sell well on etsy.com, like they sell on ebay.com or alibaba.com. But shouldn't etsy.com be honest against its sellers – and mainly against its buyers – and admit that they sell serial production under the label of 'unique handmade and different'?
To be fair, not only etsy.com but similar shops like dawanda.com sell cheap mass produce – under the label of "supplies" or even as handmade or vintage. Of course it's all about money. Maybe these mass production sellers are necessary to keep the site profitable enough so that independent artists and crafters could have an outlet for their creations? In this case the handcraft people should see them as blessing.
And aren't they a damage to etsy.com (and similar shops) reputation in the long run? Imagine that Starbucks will start selling Nescafé just to expand its brand? Won't it lose its uniqueness as the result?

Or maybe I am just jealous of this "wonderful, successful, cheap, sustainable and easy to wear" cat ring which can be stamped in hundreds while I am busy with just one ring like this on the left, and sold by dozens in the same time while mine are hanging for months on etsy.com?
Actually I am not the only one. Read a viewpoint on the Etsy policy change from the buyer's perspective