PMC starter toolkit – what do you really need and what – not. And where to buy it. I wish I knew it 6 years ago when I started making jewelry from precious metal clay. There is so much choice in online shops. You are very often tempted to buy every starter tool kit offered. Like one of these offered by Cool Tools – one of my favorite shops.
The point is that only after some years of practice you discover what you really need. Only years later I can definitely tell how my PMC starter toolkit should have looked like.
The supereconomy version of the PMC starter tool kit. Only clay shapers have to be bought in a specialized shop (angle and flat chisels are the two varieties I use most). Use a hobby knife with a V blade as a universal carving tool and for cutting pieces of wet clay. Sandpaper (different grain size) for sanding and polishing. A piece of PVC pipe can be used as a roller. Teflon paper, brush, playing cards. All to be bought in a (DIY) supermarket.
2. Basic PMC starter tool kit. As you see here, this set contains some needle files, carving tools, pliers and rawhide mallet. It is nice and inexpensive to have the full set of needle files for different shapes, but as to carving/sculpting tools, I still wonder whether the whole carving tool set is really necessary. I only use a couple of them. Actually a good carving knife and a sharp needle would do too. Pliers and rawhide mallet are for the shaping of fired pieces. Sanding and polishing can be still done with sandpaper.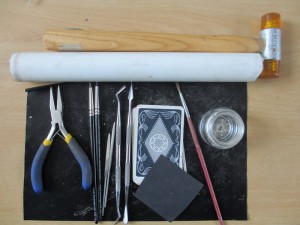 3. Extended PMC starter tool kit. When you just start with PMC, firing is the most critical part of the process when things can really go wrong. So I advice to find someone with a kiln in the neighbourhood. But if you want to fire pmc pieces yourself, you have basically two options: a torch or a kiln. I have explained here why I am not a fan of torch firing. Even in the terms of economy: a kiln of 500 euro might look a large investment, but I wasted about 150-200 euro on 2 cheap torches that were broken in a couple of weeks (the Proxxon Torch is my third and best one) plus dozens of butane lighter gas refillers. So a kiln (with a fiber shelf and some fiber wool) is a must if you are seriously interested in working with pmc.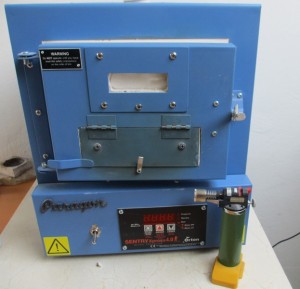 And if you want to perform all kinds of drilling, polishing etc operations on greenware and fired metal clay pieces you would want a dremel or another rotating tool. Here is mine.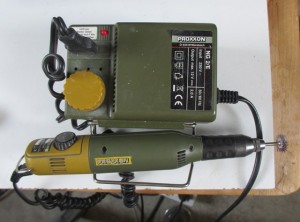 And now things you can do without, I mean without buying them in specialized shops. An agate tip burnisher is nice, but I mostly use it for Delft clay casting, setting stones, and eventually – for burnishing pmc based fine silver. Actually a metal burnisher tool is much more versattile for all these purposes. And Slik balm is an absolute redundancy. Use (old and therefore inedible) organic coconut fat/ olive oil instead. Of course as you proceed you would like to make molds, use textures etc. They are quite expensive in specialized shops. But I would suggest to start by using textures from nature or from your own home. Leaves, tree cork, cones, shells. Have a look around you and you will find it.